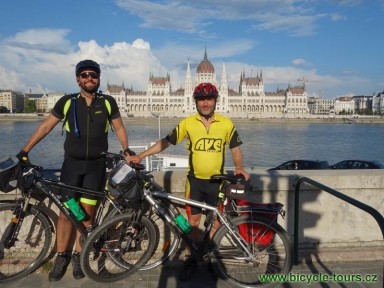 If you have not found a suitable programme in the Bike Tours proposal, we can create a trip based on your personal demands.
We will design the trail according to the places you would like to visit. Daily legs of the tour will reflect your abilities and demands. We will provide transportation services, accommodation, guidance and other services according to your wishes.
The prices of these tours correspond with the ordered services. You can be assured that the programme and services will fully meet your needs.
In 2019 we are working on the tour of 14 Spanish from Berlin to Dresden and to Prague.
In 2018 we arrange private tour Prague to Vienna to Budapest for two families from Mexico. The tour consists of cycling days as well a rest day in Vienna. Some sections were shortened by the support vehicle.
In 2007 we organized a tour for 8 Americans (four couples) Prague - Dresden - Prague without supporting vehicle but with a guide. There were also several individual Self-Guided tours with full luggage on bikes, so-called "Heavy Duty Biking"
In 2006, we organized a tailor-made tour for a group of American Jews with a programme focusing particularly on monuments and places of interest connected to Jewish history in the Czech Republic.
In 2005, we organized a bike tour for 42 people from Prague to Dresden, Germany. We provided about 20 bicycles, the schedule of the tour, route plan, maps, three tour leaders, a supporting bus with bike trailer, accommodation, catering, visits to three castles and chateaus on the route, and other services.
In 2004, for example, we organized a private guide-led tour from Prague to Vienna for a group of eight Russian teachers. Some of them had not sat on a bike since childhood. They arrived in Prague by plane, and had a two-day sightseeing program in Prague. After a short bike-ride course with their AVE tour leader, they all managed to reach Vienna in 12 days! They departed for Moscow from Vienna.
If you wish to spend your vacation on a bike and you know the places you would like to visit, just complete the Request Form and in your e-mail tell us as much as possible about your suggestions for your tour.
You can also Send us an e-mail and ask for a preliminary plan of your tour.