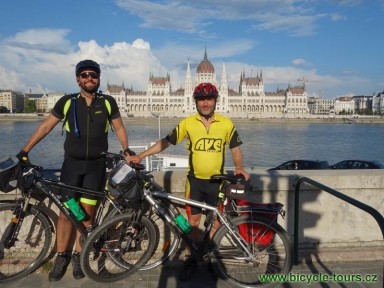 If you have not found a tour that suits you in the Bike Tours list, we will be happy to create a tailor-made trip based on your requirements.
We will design the route according to the places you would like to visit, taking into account the required difficulty of the route. We will provide transportation services, accommodation, advice and other services according to your wishes.
The prices of these tours correspond to the ordered services. You can be sure that the program and services will fully meet your needs.
To create a dream bike trip for you, we need to know the following information:
1. number of persons
2. number of rooms (single, double, etc.)
3. Required accommodation. Hotels 3 *, 4 *, camps, pensions etc.
4. Date of the cycle trip.
5. Difficulty of the route - easy, medium, challenging, professional
6. Type of route
* linear - you go from point A to point B
* circuit - you start and end in the same place
* central - you start and end every day in the same place.
7. The number of days you want to spend in total and the number of days on the bike
8. If you have a tip for any places you want to visit, please write to us.
9. Own bikes YES / NO - if yes what type: touring; e-bike; road/gravel
10. Guide YES / NO
11. Accompanying vehicle YES / NO
What will we prepare for you?
1. We will give you a detailed tour itinerary
2. We will book accommodation and give you an overview of hotels
3. We will provide you with the required number of bikes
4. We will provide you with a guide
To plan a custom bike tour, please get in touch with us by e-mail: bookings@avetravel.cz
Thank you.
Example of Tailor-made tours:
-Hamburg to Dresden along Elb River
-In 2019, we created a trip for 14 clients from Spain. The route led from Berlin via Dresden and ended in Prague.
-In 2018, we organized a private tour from Prague to Vienna and then to Budapest for two families from Mexico. The tour consisted of cycling days and a rest day in Vienna. Some sections were shortened by the support vehicle.
-In 2007 we organized a tour for 8 Americans (four couples) Prague - Dresden - Prague without an accompanying vehicle, but with a guide.
In 2006, we organized a tailor-made tour for a group of American Jews with a program focused mainly on monuments and places of interest associated with Jewish history in the Czech Republic.
-In 2005, we organized a bike trip for 42 people from Prague to Dresden, Germany. We provided about 20 bicycles, a tour plan, a route plan, maps, three tour guides, a support bus with a bicycle trailer, accommodation, meals, visits to three castles and chateaux along the route and other services.
-In 2004, for example, we organized a private guided tour from Prague to Vienna for a group of eight Russian teachers. Some have not ridden a bicycle since childhood. They arrived in Prague by plane and had a two-day sightseeing program in Prague. After a short cycling course with their AVE tour leader, they all managed to get to Vienna in 12 days!
and more...