Add to favourites
Bohemian Adventure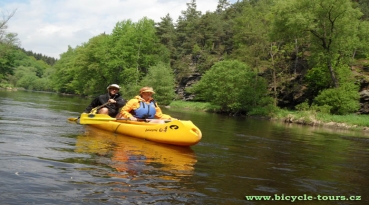 Cycle, sail and hike
Czech Repulic
6 days / 5 nights
- 1 canoeing day
- 2 or 3 biking days
- 1 hiking day*
Guided group tour or Self-guided individual tour
Length of:
- canoeing: 2-35 km (1-21 miles)
- cycling 100-130 km (60 - 78 miles
- hiking: 0-30 km (0 - 18 miles)
* It is possible to modify the distances for the canoeing, cycling and hiking activities.
Grade of difficulty: Moderate
This route offers huge variability on short distance - rolling hills, paved flat special path on river´s banks, paved roads without cars as well off-road section in forest. On last day you can hike and settle down meeting point for pick up and transfer to Prague.
What makes this tour different is the combination of canoeing, cycling and hiking. You can build your own tour as you wish. It is you who decide how far you would like to travel each day by canoe and by bike.
For the first part of the tour from Prague to Cesky Krumlov you will travel by minibus or car. On Guided Group tours we leave Prague in the morning. On Self Guided tours you can choose your departure time. Cesky Krumlov, a UNESCO heritage site, is not only a fascinating medieval center, but the cultural life and history of this beautifully well-preserved town is truly unique.
For the next day you can decide how far you would like to travel downriver by canoe or life-raft. Distances can vary from 2 to 35 km (1-21 miles). We will convey you to the starting point. The river trip ends at the boat rental agency in Cesky Krumlov, which is within walking distance from your hotel.
The next day you cycle from Cesky Krumlov to another world-famous town - Ceske Budejovice, which gave its name to Budweiser beer, and then on to Hluboka nad Vltavou. You will certainly not want to miss the opportunity of tasting Budweiser beer in its hometown, where it has been brewed for over 600 years. After a tour of the city, we will ride the remaining 12 km to Hluboka nad Vltavou where we stay for the night. This little town is famous for its chateau. The neo-gothic Chateau Hluboka is perhaps the most romantic chateau in the Czech Republic. The second cycling day will take you through rolling forest and farmlands to Pisek, a town with a remarkable historical center and the oldest stone bridge in central Europe.
If you have had enough of cycling, you can choose to hike 30 km to Zvikov. The royal castle of Zvíkov stands high above the confluence of the rivers Vltava and Otava. From here you can take a boat to Orlik Castle. The voyage takes around 45 minutes. Or you can cycle from Pisek to Orlik (33 km / 20 miles). Our shuttle will take you from Orlik back to Prague (85 km /50 miles). The hiking or cycling distance on this day can be modified according to your wishes.
Day 1 - Prague - Cesky Krumlov, 170 km = 102 miles by AVE shuttle
The tour starts with the transfer from Prague to Cesky Krumlov. You will have a free evening to enjoy the best-preserved medieval town in Europe. In the Middle Ages, Cesky Krumlov Castle was the family seat of the most powerful Czech nobles - the Rosenbergs, the Lords of the Rose. The castle complex, the oldest section which dates as far back as the mid-13th century, is one of the largest in Europe. The Baroque theatre, which has been preserved along with the costumes, sets, and stage equipment, has nothing to equal it anywhere in the world. An impressive arched bridge connects the castle to the adjacent Baroque park
Day 2 - Canoeing on Vltava River in Cesky Krumlov, 2-30 km / 1-18 miles of sailing
You will be transferred to the starting point and then take a canoe or a raft back to Cesky Krumlov. You can choose a river trip from 2 to 30 km long. On a longer trip you have an opportunity to visit one of the oldest castles in South Bohemia - Rozmberk. We spend the night in Cesky Krumlov.
Day 3 - Cesky Krumlov - Ceske Budejovice - Hluboka nad Vltavou, 45 km = 28 miles
You take the route along the scenic valley of the Vltava River. The first site to visit on the way is the monastery Zlata Koruna (the Golden Crown). We then ride on to Ceske Budejovice (Budweis in German). After lunch with Budweiser beer, we complete a bike tour of Ceske Budejovice and continue to Hluboka nad Vltavou. Hluboka Chateau is well worth visiting, and you can also take a pleasant stroll in the elegant park.
Day 4 - Hluboka nad Vltavou - Pisek, 50 km = 30 miles
You will see a different aspect of the Vltava River for this part of the trip. There is a complex of four dams and therefore the Vltava here forms four huge lakes. You will cycle to Pisek, a picturesque town on the Otava River. Pisek's main attraction is a 13th century stone bridge, the oldest in central Europe.
Day 5 - Pisek to Orlik and Prague, (33 - 37 km = 20 - 22 miles by bicycle or hiking, then transfer to Prague by AVE shuttle, 85 km = 50 miles
Today you can choose between hiking in the forest along the Otava River up to 30km (18 miles) to Zvikov and take a boat to Orlik, or you can cycle from Pisek to Orlik (33 km / 20 miles). The shuttle will then take you back to Prague. The hiking and cycling distances on this day can be modified according to your wishes.
Day 6 - Prague
Breakfast and check out, unless you have decided to prolong your holiday in the Czech Republic.
WHAT IS INCLUDED IN THE PRICE

Pick up from any Prague hotel or from Prague Airport on the first day of the tour (Self Guided option)
Pick-up from AVE Prague hotel on the first day of the tour at an appointed time (Guided Group option)
Accommodation in selected standard class hotels and pensions
Buffet breakfast on all days
Dinners with drinks except for the last night (Guided Group option)
Refreshments in the supporting vehicle (soft drinks, snacks, sweets, fruit) (Guided Group option)
Detailed town maps
Detailed cycling maps (per room)
Programme and English route book (per room)
Bicycle repair kit (per room)
Transportation of participants, their luggage and bicycles from Prague to the starting point of the bike route and from the end of the route to Prague (according to the programme of the tour)
Transportation of luggage between hotels
24 hour hotline assistance service
GPX or KML data of recommended route, GPS device only on request if in stock (Self Guided option)
Specialized AVE bicycle tour leader during all biking days (Guided Group option)
Practical bike ride safety training (Guided Group option)
Technical service on the route (Guided Group option)
First aid - health service on the route (Guided Group option)
Support minibus (Guided Group option)
Water for bike-flasks from the support vehicle (Guided Group option)
Self Guided option:
650 Euro per person in double room Cat B
780 Euro single room Cat B
780 Euro per person in double room Cat A
910 Euro single room Cat A
Guided Group option
770 Euro per person in double room Cat B
900 Euro single room Cat B
Solo traveller - a single person travelling alone
850 Euro single room Cat B
Bike rental
55 Euro - bike
120 Euro - E-bike
Included:
-bike, helmet
-handle-bar bag
-rear pannier
-lock
-new cycling water bottle (on request)
-repair kit (Self Guided option)
Bikes

CROSSING / TREKKING Leader Fox – Point / Sumava – at last 27 speeds
Man or women frame
All AVE bikes rental includes:

bike
helmet
handle-bar bag (with the standard bike only)
rear pannier
lock
repair kit (Self Guided option)
Optional

100% waterproof pannier -10 Euro per tour
new helmet for sale - 25 Euro per helmet
new cycling water bottle
You read testimonials for AVE here
The trip has been organized since 2020 by The Europe Bike Tours IČ: 247 77 86