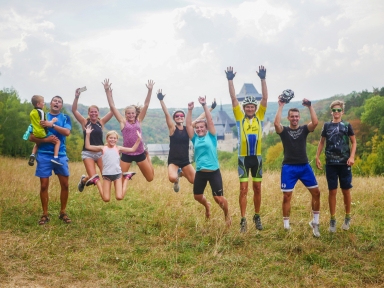 Self-guided individual tour or Guided group tour (on request)
About 3 hours long ride
Length 32 km
Grade of difficulty: Easy
Included:
• welcome briefing
• rental of a 21-speed bicycle
• helmet
• water bottles
• a brief bicycle training course
• friendly English-speaking guide (guided group tours only)
• train ticket for your return to Prague (guided group tours only)
• a repair kit (Self Guide option only)
• a cycling map (Self Guide option only)
• the GPS console with the pre-recorded route (Self Guide option only)
Optional

a transfer by a taxi to meeting point

Price of Self-Guided option:
680 CZK / 29 EUR standard bike
+ 300 CZK / 15 Euro per booking (for GPS, maps,....)
Price of Guided Group option - (departures on request):
1.490 CZK / 60 EUR standard bike
1.840 CZK / 75 EUR e-bike.
Description:
Meeting point: AVE, Pod Barvířkou 6, Prague 5
Welcome briefing at our office.
The ride is an easy 32km long trip. You will cycle to one of the most important and famous Gothic Karlstejn Castle in the Czech Republic. After the first two kilometers, you will take a special path leading you along the beautiful banks of Vltava and later on the Berounka river. Cycling through the Czech countryside with picturesque villages. There will be plenty of great photo opportunities along the way as well as stops for refreshments. A must-see is Dobrichovice chateau.
The organized part of the tour ends in Karlstejn village. You leave the bike next to the restaurant where you can have lunch. You will have a free afternoon to explore the splendid village of Karlstejn with many shops and entertainment possibilities as well as to enjoy a visit to the famous Gothic Karlstejn Castle. Karlstejn is surrounded by many hiking tracks, which also make for a great afternoon activity after your bike ride. Spend as much time as you like in Karlstejn village and return to Prague by train when you are ready.
You will return to Prague by direct train. The train leaves each 30 minutes. The train ticker is not included and cost 71 CZK / 3 EUR per person
Bicycles: Modern touring bikes with front suspension and at last 21 speeds, equipped with a front bag, mud-guards, etc.)
Karlštejn Castle - OPENING HOURS
May, June: Thu-Sun: 9.00–17.30
July, August: Mo-Sun: 9.00–18.00
September, October: Thu-Sun: 9.30–16.30
Please find up-to-date information for visitors to the castle at OPENING HOURS
Reservations:
For any questions send an e-mail to karlstejn@avetravel.cz
BOOK NOW