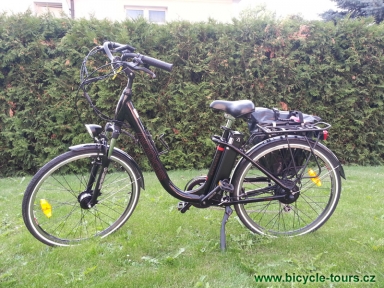 Electric bicycle (e-bike) we offer is low step frame bicycle, equipped with mid-class components, with 36V/10Ah Lithium Polymer battery.
The maximum load is 125 kgs. The assisted range in standard terrain is 50+ km in pedelec mode. This e-bike has also grip accelerator for faster starts.
We offer e-bicycle: AGOGS CityLiner Class.
Switching the E-bike on
1. press the battery key and turn slightly to the right to switch the battery on
2. press the ON/OFF button on the handlebars controller - the 4 LED diodes should indicate the battery status when fully loaded. Also by pressing the button on the battery, 3 LED Diodes will indicate the capacity.
3. It will switch off automatically after 10 minutes when not riding a bike.
Mode
1. use the MODE button to change the intensity of an electric motor assistance
BE CAREFULLY BY THE FIRST RIDE. THE MOTOR REACTS FIRST AFTER CA. 2 SECONDS. THE MOTOR STOPS AUTOMATICALLY BY USING A HANDLEBAR BRAKE.
Removing the battery
1. Push the lever under the saddle and turn the saddle to the front.
2. Press the battery key and turn slightly to the left to the first position.
3. Hold the battery from your E-bike.
BE CAREFULLY BY REMOVING AND INSERTING THE BATTERY, PLEASE WATCH ALL THE PARTS TO BE IN A PROPER POSITION.
Charging the battery.
The battery can be charged both on the E-bike and removed.
1. Put your battery charger to the battery first.
2. Plug the charger in a socket
3. The battery will be fully charged after 5 hours.
LED lights on the batery
By pressing the button on the battery three LED lights indicate the actual capacity of the battery - on red, green,green light. The less stamina the battery contains the less green LED lights are switched on. By empty battery only the red light is visible.
You can check the battery capacity also from the control panel on your handlebars. The more red lights on you panel, the more stamina in your battery.